DeskCycle-2
NEW DeskCycle 2 Adjustable Height Under-Desk Exercise Bike / Pedal Exerciser
$169.00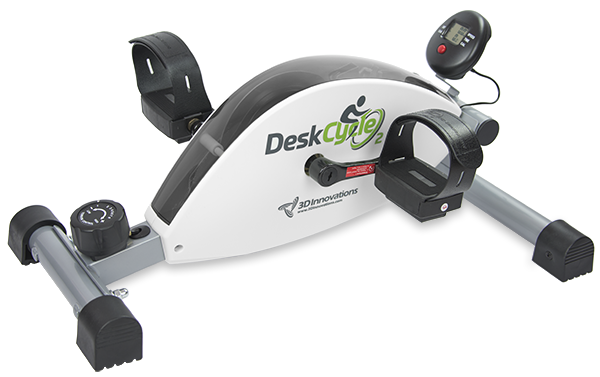 Lowest Pedal Height of All Mini Exercise Bikes
Newly available, the DeskCycle 2 offers another under-desk bike for exercising wherever you are! Now you can enjoy the same high-quality bike as the revolutionary DeskCycle, but with the added ability to lower the pedals by another inch. The DeskCycle 2 is an under-desk bike with pedal heights of 9 inches. This is the lowest pedal height of any under-desk exercise bike in the marketplace. Quiet to operate and able to work with desks as low as 27 inches, the DeskCycle 2 is the perfect tool for exercising while seated at work, at home, at school or anywhere that you spend time. Maximize your productivity and exercise while you manage other tasks! With the DeskCycle 2, it's never been more convenient or effective to exercise.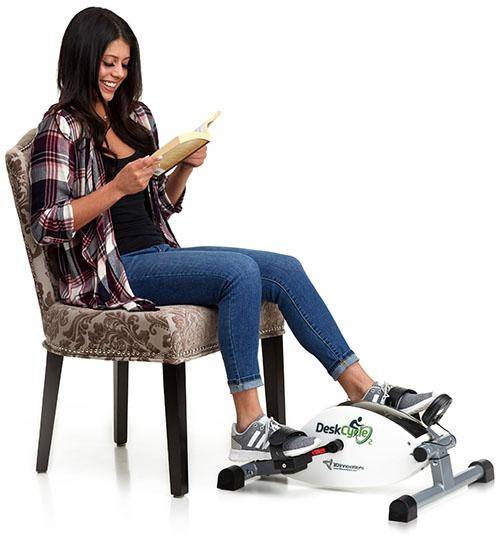 Adjustable Bike Pedal Height for Under-Desk Exercise
One of the best parts of this new bike is that the pedal height of the DeskCycle 2 is fully adjustable to suit you. When using the DeskCycle 2, you can set the maximum pedal height to either 9 or 10 inches — depending on what works for you. This is in addition to other customization features such as the bike's wide resistance range, adjustable Velcro straps and wide base that eliminates side-to-side rocking. If you're interested in the DeskCycle but want a way to lower it farther, this is the answer!  

Choose the adjustable DeskCycle 2 when you want to get exercise while also:
Working at your desk
Watching television
Playing video games
Reading a book
Using your phone

Essentially, you can use it just about anywhere when you're sitting and your legs are free. The DeskCycle 2 is a compelling way to incorporate exercise in your routine.
Benefits of the DeskCycle Under-Desk Bike
There are several key differentiators of DeskCycle products, even beyond the adjustable pedal height. Add the DeskCycle 2 to your desk, and enjoy features such as:
 
A design with magnetic resistance that eliminates jerky pedal motions
Smooth spinning — thanks to an internal machine flywheel spinning at 14 times the pedal speed
Large, adjustable Velcro straps on the pedals
A wide resistance range with eight levels
A 1,000-minute display that surpasses what's offered with comparable bikes
An accurate online calorie calculator
A display stand for placing on a desk
Usability for ages 5 to 100
30-day money-back guarantee
One-year warranty